Great Gift Ideas for the Kids!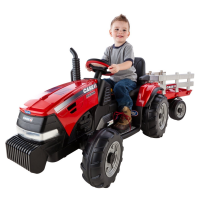 • 12 volt rechargeable battery w/ charger
• 2 speeds + reverse; 2 1/4 & 4 1/2 mph
• Accelerator pedal with automatic brakes
• Extra large stake side trailer to carry the loads
• Extra traction tires for all terrain travel
• Includes 2 year warranty with consumer participation
---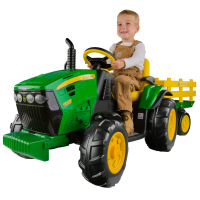 • 12 volt rechargeable battery w/ charger
• 2 speeds + reverse; 2 1/4 & 4 1/2 mph
• Accelerator pedal with automatic brakes
• Extra large stake-side trailer
• Working FM radio
• Adjustable seat with flip-up armrests
---
Amazon's Toys & Games Store
Yes, it's that holiday time of the year again! Amazon features thousands of products, including craft kits, ride-on toys, electronics, kids furniture, games, stuffed animals, puzzles, hobbies, models and trains, and much more. You can shop by age, favorite brands, new products, and best sellers. » View All Categories ...
---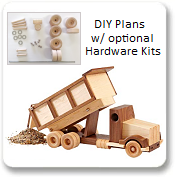 Plans & Kits for the DIY Woodworker
Build your favorite workhorse. These toy vehicles are all the rage! Buy the plans (download or by mail) and you have the option to purchase the parts kits. Each kit contains all the specialty parts and hardware needed to complete each project. You supply the wood ... »
View All
---
Where Creativity Happens ™
Michaels is a great place to shop for unfinished boxes ready for your decorative touch. These craft boxes include jewelry boxes, domed chests, photo cube, and more. Use your creativity to decorate and give as gifts or for resale ... »
View All
---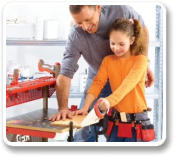 Groundbreaking Concept in the World of DIY
Red Toolbox offers a wide variety of specially designed tools and
exciting carpentry kits
that let children and parents work, explore and create together. Work and play are intertwined, as the connection between parent and child is enhanced ... »
View All
---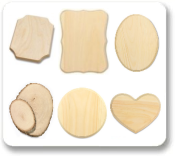 Made from either pine or basswood, these wooden plaques make a great surface for kids to decorate with paints, fabric, stickers, or stamps. They can also be stained or used for découpage, woodcarving, or woodburning projects. A few of these unfinished plaques are made of wood-based medium-density fiberboard (MDF), which is known for being warp-resistant and easy to paint ... »
View All
---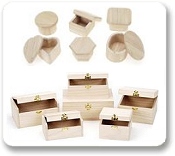 Ready to Paint, Stain or Decorate ~ from Amazon.com
Bulk buying is an ideal source for crafters, school supplies, kids crafts projects or discount teacher supplies. Choose from a variety of unfinished wood boxes in many sizes and styles ... »
View All
---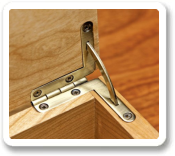 Hinges & Latches for Boxes, Humidors, Music Boxes
A fine selection of the finest
hardware for boxes
of any size. Shop solid brass hinges, lid supports, knobs, locks, handles, music box movements and more ... »
View All
---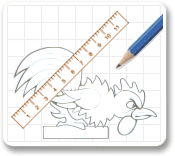 for the DIY Woodworker
Sizes range from 12" to 20" but most are closer to 20". All hardware can be made by hand or bought locally and the plans detail exactly what is needed and how it works. The construction process is very simple. Great projects for adults and youngsters alike ... »
View All
---
Select and better grade - Exotics & Domestics
Build a wide variety of small projects with these 10 board foot (nominal) lumber packs. Each lumber pack contains assorted sizes between 4" to 8" wide x 3' to 4' long x 7/8" thick. Surfaced 2 sides and straight line ripped 1 edge. Kiln dried ... »
View All
---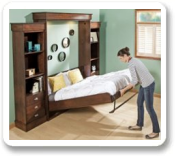 State of the art piston lift system
Deluxe Murphy Bed Hardware Kits include folding tube legs. They are totally concealed inside the bed cabinet when it is closed. When lowered out of the cabinet they manually rotate over the end of the bed face panel. Choose
twin, full or queen size bed kits
... »
View All
---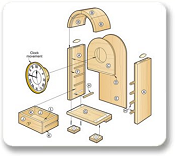 from WOOD store® and WOOD® Magazine
We all have 'em: wood scraps to little to be of much use, but too beautiful to toss out. Now you can fashion those exotic or figured castoffs into a handsome time piece ... »
View All
---
PLEASE NOTE:
We are no longer building custom boxes and other woodcrafts. We have retired our shop in Arizona. But we do offer a variety of wood craft products for the DIY woodworker.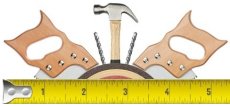 The above items go to pages with associate links for products we think you will find interesting and helpful. Sale of these items provide a means for us to earn fees by advertising and linking to associate merchant websites. These sites include
Amazon.com
,
Joann.com
,
Rockler.com
,
Createforless.com
,
WOODstore.net
and
Woodcraft.com
... just to name a few.
---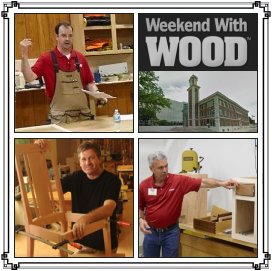 ''Weekend with WOOD'' ~ 5/19/2016 - 5/22/2016
Invest in a "life-changing" weekend learning from master woodworkers in the WOOD magazine shops and headquarters.
Whether you're a veteran woodworker, a weekend warrior, or setting up shop for the first time, Weekend with WOOD™ will put you at the top of your game.
Customize your own class schedule from more than 40 topics for all skill levels: cabinetmaking, project design, joinery, hand and powertool skills, finishing, veneering, turning, and more. »
Read More
»
View Topics