Amazon.com: 18 Note Musical Movements
Make your own music box using these 18 note wind-up musical movements with gold plated finish ...
»
Fur Elise
»
Lilium from Elfen Lied
»
Love Story
»
Carrying You from the Castle in the Sky
Amazon.com: 18 Note Musical Movements (Lot of 8)

Each plays 2-3 minutes on one winding. Perfect for use in crafts, hobbies, gifts and novelties.

Music Music Music
Beer Barrel Polka
I Could Have Danced All Night
Hello Dolly
Oh You Beautiful Doll
Summer Wind
Fiddler on The Roof
Strangers In The Night

Rock of Ages
Chariots of Fire
Children's Prayer
Onward Christian Soldiers
Praise Him
You Light Up My Life
Sunrise Sunset
Singin' in the Rain
---
Make your own music box melodies with this mechanical music box set. With this kit you'll be creating your own music box melody in minutes!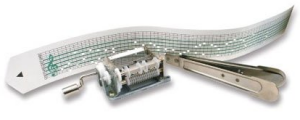 » Hand-cranked Music Box
» One Pre-punched "Happy Birthday" Music Strip
» 3 Unpunched Strips (48cm) with Hole Punch
» Instruction Manual
» View Larger Image
» Refill Kit - sold separately
---
---
Note:
This page is a participant in the Amazon Services LLC Associates Program, an affiliate advertising program designed to provide a means for sites to earn advertising fees by advertising and linking to
Amazon.com
products and services.