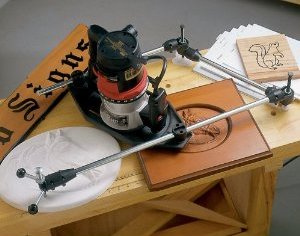 The 3D-Pantograph from Milescraft is a stencil tracing jig for routers that allows you to carve nearly anything you can imagine.

Use the included templates and line drawings (yields carved letters and drawings from 3.2-inches to 4.8-inches), or trace anything that you can print with your computer.

We find that childrens coloring books provide a great source of ideas and line drawings. Universal design fits ANY router with a 6" or smaller base. Some assembly required. For the advanced user, this product is also capable of routing/tracing 3 dimensional carvings and designs.