❈ KidKraft® Austin Toy Box
Kid's room look like a tornado hit it? The Austin Toy Box is here to straighten up that disaster area. Teach your tot the importance of organization and put a "lid" on the mess! Measures: 30" L x 18" W x 19" H ▸
Larger View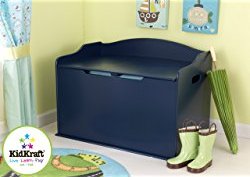 This great toy box is available in an array of colors to seamlessly adapt to any decor. This toy box features a safety hinge on the lid to protect little fingers from getting pinched and slammed. And aside from the awesome job it does keeping things organized and neat, the Austin Toy Box works double-duty as a bench, too! Smart, sturdy wood construction. Ages 3+. Assembly required.
---
More Available Colors:
---
❈ KidKraft Vintage Kitchens

Each KidKraft Vintage Kitchen is a bright and playful place where imagination is welcome. A favorite place for kids featuring bright colors and sharp attention to detail that kids and parents will enjoy. It's the place that makes kids feel just like grown-ups. Get one now and watch how much fun your kids can cook up!
Features Include:

▸ Refrigerator
▸ Freezer
▸ Microwave
▸ Oven
▸ All sections open and close

▸ All knobs turn
▸ Cordless phone
▸ Removable sink for quick and easy cleanup
▸ Add'l storage under sink and by microwave
▸ Storage next to the microwave

▸ Large enough for multiple children to play
▸ Sturdy wood construction
▸ Detailed, step-by-step assembly instructions
▸ Measures 33¾" x 11¾" x 36½" H
▸ Weighs 40 lbs
---
This free script provided by JavaScript Kit
---
We are a participant in the Amazon Services LLC Associates Program, an affiliate advertising program designed to provide us a means to earn advertising fees by advertising for
Amazon.com
.