Bring the speed and precision of computer controlled machinery to your shop with this CNC Shark system!
With a table measuring 15¾" x 31½", the CNC Shark is ideally suited for carvings and machining operations on a large variety of signs, doors and other small projects. It boasts impressive power, speed, accuracy, and ease of use. With its robust steel and high-density poly-ethylene construction, it can take accidental impacts that would normally damage or destroy an aluminum or MDF machine. You supply a PC computer with USB 2.0 port and a Bosch Colt router. Simply connect the USB cable to the controller box and the other end to your computer (not compatible with Mac computers).
» Buy Now / More Info
---
The choice router for use with the CNC Shark ...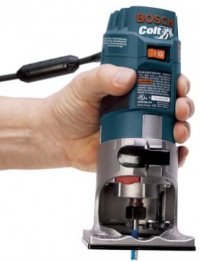 » Variable speed dial
» Soft-start reduces start-up torque
» Constant Response Circuitry
» Quick-Clamp System
» Convenient front spindle lock
» Rubberized grip
» Unique finger support pockets
» All-metal straight-edge guide
» Fast and precise depth adjustment
» Accepts ¼" shank bits
» Buy Now / More Info
A full-featured mini CNC with a compact 12'' x 19'' table and an included touch-screen interface!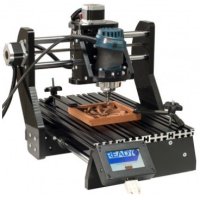 Whatever you do, don't call the CNC Piranha ''small fry.'' Though it might swim in a smaller pond, it packs a bite as accurate as any CNC SharkIts compact 12'' x 19'' table makes it perfect for smaller-scale projects like carvings, plaques, ornamental boxes and precision parts machined from wood, soft metals, or plastics - all at a fraction of the price of a full-sized CNC. Not only that, but it also includes a convenient touch-screen interface! Carve expensive corbels and brackets, intricate inlays and engravings-you can even engrave circuit boards with it. The creative potential is enormous, yet you can fit the entire machine on one end of your bench. Put the power of the Piranha to work for you today!
» Buy Now / More Info