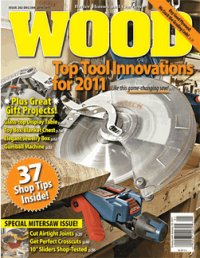 Shop Project: Router Table Dust Hood
When you're template or freehand routing, a fence-mounted dust port does no good. So for those situations, Todd DiOrio designed this dust hood. Todd says, "It can be mounted anywhere on the table, and is secured at a single point in T-track so it easily pivots to the best position."

Finishing: When to Use Sanding Sealer
If you apply sanding sealer as a matter of habit before finishing, you may be taking an extra, unnecessary step.

Half-Lap Joinery with a Sliding Mitersaw
Sliding mitersaws have pretty much replaced radial-arm saws in woodworking shops and job sites thanks to their lower cost, improved accuracy, and portability. Few users realize, though, that these machines also can make partial-depth cuts, such as those in half-lap joints, dadoes, or rabbets.

How to Buy Good Plywood
When evaluating a sheet of plywood, start by looking at its edge. Thin veneers of wood, glued and pressed with crossing grain directions - transform humble core woods into sheets that are wider, flatter, and more dimensionally stable than anything found in nature.

Bench Test: 10'' Sliding Mitersaws
With all the choices in mitersaws these days (sliders and non-sliders alike), a 10-inch sliding compound mitersaw provides the best combination of accuracy, cut capacity, power, price, and portability.
» Plans in WOOD Issue 202 Include: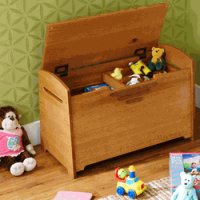 Reader Bill Nolan designed this rugged box with solid-wood parts so it would handle kids scooping toys from it from it for generations to come. And because he chose simple screw-together joinery, you'll have this toy collector built quicker than kids can make messes.

Overall Dimensions: 31 1/2" wide by 16" deep by 20" high

» Order the Plans: Toy Box / Blanket Chest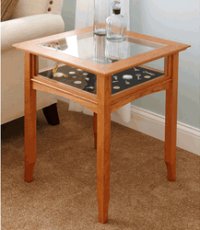 Keep your favorite mementos where you can see and enjoy them, free from dust and fingerprints. Glass sides give a view from all angles, and a clear acrylic top panel won't break. (Or you can choose tempered glass for the top.) Joinery couldn't be simpler: Four identical rabbeted frames are glued to the legs, and biscuits reinforce the miter top frame.

Overall Dimensions: 20 1/2" wide by 20 1/2" deep by 25 3/4" high

» Order the Plans: Glass-Topped Display Table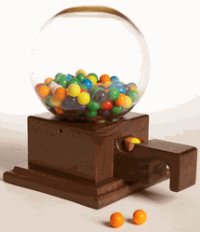 Simple to build and simple to use defines this child-pleasing project. You need only push in its dispenser to allow a treat to drop into a copper cap. Pulling the dispenser out retrieves the tasty treat.

» Order the Plans: Glass-Globed Gumball Machine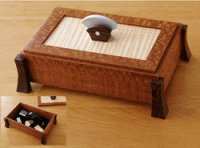 Three species of wood - and a bit of aluminum - give this little project lots of visual appeal. The rabbeted legs lift the box and wrap around each corner to conceal any less-than-perfect miter joints, while under the lid, items rest softly on a felt-padded bottom.

» Order the Plans: Keepsake Box
» Skill Builders in WOOD Issue 202 Include: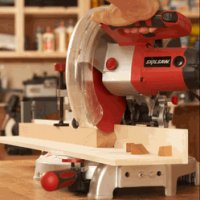 Get Tablesaw Accuracy from a Mitersaw
Few tools can match a mitersaw for portability and quick setup. But the real test for woodworkers comes down to this: Can it make clean, accurate cuts day-in and day-out in a workshop setting. The answer: a qualified "yes." Right out of the box, some mitersaws deliver furniture-quality cuts. But even the best saws will yield better results if you put into action the tips detailed in this article.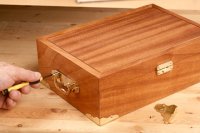 Add Bling to Basic Boxes
It's easy to see why small boxes are popular projects: They require little material and can be built quickly, in even the smallest shop. Plus, you can stretch your creativity by customizing them.
Rust! Just Bust It with These Tips
Got rust on your cast-iron machinery tops? Don't sweat it. Here's how to make them look new again.
» Order WOOD Dec. / Jan. 2010 issue ...