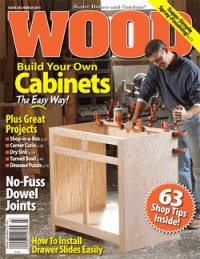 Shop Project: Shop-In-A-Box - Compact Tool Storage
Got tools and stuff all over the workshop? Round it all up, get it organized, and make it mobile with this simple-to-build project. For about $165 in materials, build this accommodating cabinet to store a small-shop's worth of tools, hardware, and supplies.

Pocket-Hole Jig Organizer & Base
Clamp this organizer to your workbench with a pocket-hole jig mounted on top and go to work. When you're done, fill the compartments with screws and accessories and hang it up until the next job.

Drawer-Slide Mounting Made Easy
Learn to choose the right drawer slides and mount them for smooth results. Some woodworkers avoid drawers in their projects because they perceive them to be difficult to install. Truth is, with a few tricks, you'll soon be installing drawers with ease.

Shop Plan: How to Build Cabinets the Quick-and-Easy Way
There are many approaches to building cabinets as there are cabinetmakers. We asked one of the best, Marc Adams, to show how he balances the demands of fast-but-simple construction, durability, functions and appearance to create the dry sink shown.

Shop Test: Oscillating Multi-Function Tools
With all the choices in mitersaws these days (sliders and non-sliders alike), a 10" sliding compound mitersaw provides the best combination of accuracy, cut capacity, power, price, and portability.
» Skill Builders in WOOD Issue 203 Include: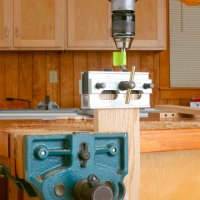 Joinery: Making the Most of Dowels
Dead-on dowel joints are much easier to make than mortise-and-tenon joints and a lot stronger than biscuits.

Using only basic tools and careful layout, you can assemble dowel joints that rival the strength of mortise-and-tenon joinery, and in less than half the time. In fact, dowels beef up nearly any end-to-end, edge-to-face, and mitered joint ...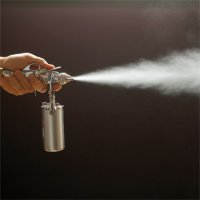 Small-Scale, Affordable Spray Finishing
Airbrushes and touch-up sprayers provide simple, low-cost ways to spray.

If you've given up on the idea of spray-finishing projects because you think it's too messay, too complicated, and too costly for your small and medium-size projects, maybe you're thinking too big ...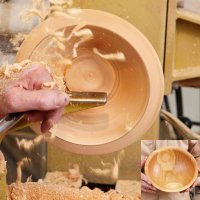 With just a few basic tools and these easy-to-follow steps, you'll be turning out dazzling bowls in no time.

You'll need a small chainsaw, a lathe of any size, a bench grinder (preferably with a sharpening jig), a four-jaw chuck with center screw, a live center, 1/2" bowl gouge a parting tool, and thickness calipers ...