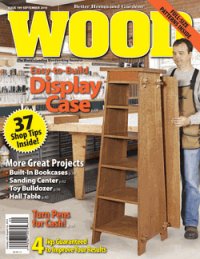 Tablesaws on Trial
That buzz you've been hearing lately isn't from using your router without ear plugs. It's woodworker's talking about a guy who won more than a million dollars in a civil lawsuit after getting his hand tangled up in a tablesaw.

Update on the Emerald Ash Borer
Now another great North American hardwood tree, the ash, is under assault from abroad, although this time it's an insect not a fungal disease, the emerald ash borer, doing the damage.

Teen Turns for Tuition
When it comes to financing his education, this 13-year-old has the write stuff. Alex discovered woodturning a month before his 11th birthday during a trip to a woodworking show near his home. Now he turns pens, sells them, and makes money for college.

» Order the Issue: WOOD Sept. 2010
» Plans in WOOD Issue 199 Include: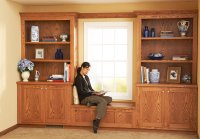 If you can make a freestanding bookcase, you can handle built-ins. We will guide you from planning through installation. You'll be surprised how easy it is to design and install window seats and bookcases.

» Order the Plans: Built-In Bookcases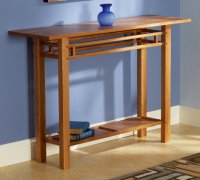 No-fuss joints and home-center lumber help you add easy elegance to your entry hall. Those may look like pegged mortise-and-tenon joints on the legs of this table, but we'll let you in on a little secret, you can make those joints using only basic woodworking skills, screws, and the foolproof jig within the article. To make it even easier, we've included the plans and instructions for building and using dado and rabbet routing guide. Overall Dimensions: 48" long x 14" deep x 32" high.

» Order the Plans: Easy-and-Elegant Entry Hall Table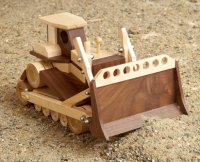 The third piece of our "Construction Grade" series will wow any youngster. For simply pushing blocks around a playroom, or gathering compliments about your woodworking, this dozer gets the job done. For added safety, we've included a bonus article on tips for safer routing. Techniques that will come in handy when machining the small parts on this project. Overall Dimensions: 13" long x 8" wide x 7" high.

» Order the Plans: Construction-Grade Bulldozer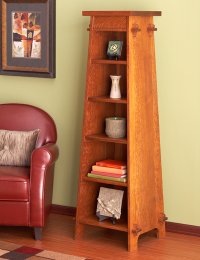 Biscuit joinery and no-fail angled setup blocks make construction a breeze. Inspired by a Roycroft design from the early 1900s, this version replaces traditional through-tenon joinery with thoroughly modern and easy-to-do biscuits. Up top, a blank drawer front blends into the design so well you might not know it's there, until you learn the secret to opening it. A perfect piece of your Arts and Crafts collection.

» Order the Plans: Solid-Oak Tapered Display Tower
» Also in this Issue: Skill Builders:



Finishing: Power-Polish Poly
Learn how to use readily available modern abrasives and power tools to bring your finish to a classy, glassy sheen.

Four Top tips for Safer Routing
You've carved out some precious shop time for that long-awaited project, and now you're eager to get the job done. Follow these four router safety tips, and you won't let haste make waste.

Add an Eye-Popping Celtic Knot
Add an accent that turns heads and gets friends asking, "How'd you do that?" Don't let the curves or fine lines of this eye-catching inlay fool you.