❈ DIY Rocking Chair Plans

---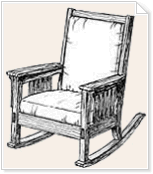 A comfortable Arts & Crafts styled rocker featuring an upholstered back which is held in place by wood screws. A loose seat cushion is to rest on the seat slats. Upholstery options and techniques are not discussed in the plan, so you should plan on taking care of that aspect of the project on your own. This rocking chair is a simple, sturdy piece of American furniture that is sure to last for years. Overall dimensions: 27" wide x 38" high.

---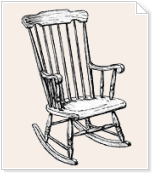 Anyone making a rocking chair is no doubt a little apprehensive about the project -- it's a serious endeavor for the intermediate woodworker. Assure success by using a plan where all drilling angles, joinery and components are clearly shown on the plan in full size. The runners are easily cut using the full size pattern -- no enlarging necessary, but transfer paper helps. A complete list of materials and precise cutting list are also provided, along with a decorative pattern for the top back rail. Overall dimensions: 41" high x 18" deep.

---
Create, Build, Assemble, etc. yourself with the help of this paper plan. Both chairs illustrated here can be made using the large format blueprint woodworking plan and drawing you receive. The chairs are sturdy, easy to make, and will surely be handed down from one generation to the next. The simple design uses through-dowel construction for the joinery.

---
This free script provided by JavaScript Kit
---

This page is a participant in the Amazon Services LLC Associates Program, an affiliate advertising program designed to provide a means for sites to earn advertising fees by advertising and linking to
Amazon.com
.