L'il DaVinci Art Display Cabinet
The L'il DaVinci 12" x 18" art cabinet is great for displaying portraits, coloring book pages, certificates, and school tests and papers ... a tastefully way to showcase your children's masterpieces.

A discreet hinge allows you to open the front of the L'il DaVinci Art Frame and easily swap out pictures or artwork. The spring-loaded corners make it possible to hold 1 to 50 pages so you can archive all of your children's creativity.

Each frame is made from wood with a black matte finish.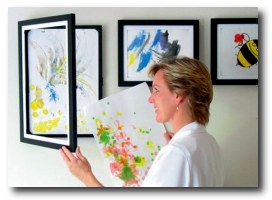 Choose a Cabinet Size:
» 12" x 18" Display Cabinet
» 8½" x 11" Display Cabinet

NOTE:
Can be hung horizontally or vertically
Key Features:
» Opens from the front
» Stores up to 50 pieces of art
» Wall-hanging template included (with hardware)
» Black, wooden frame with white matte
The picture frame can be latched closed to prevent unwanted tampering. Reduce refrigerator clutter, encourage your child's artistic talent, and transform their art into framed masterpieces with the Lil DaVinci Store and Display Art Frame.

The art frame can be hung vertically or horizontally (mounting hardware is included). These frames can also stand on a table. The table stand is included.


The L'il DaVinci
12" x 18" Art Cabinet

Lil DaVinci 8½" x 11"
Display Cabinet
Wall Art Display:
Put favorite pictures in the six picture frame sleeves, arrange them, and put this hanging gallery on the wall. You can change pictures as often as you like - each frame has a velcro back. The perfect way to showcase your little artist's work.

» Accommodates up to 6 works of art in colorful frames
» Hangs by web loops from a door or wall
» Each frame has a Velcro back and is interchangeable
» Each frame can hold a work up to 9" x 12"
» Displaying your child's art develops self esteem
My Art Place 44" Hanging Art Gallery
With this great display, kids can open their own rotating art gallery. They just slide five of your favorite masterpieces into the pre-fitted openings to proudly show-off original artwork.

Windows open in the back with Velcro to easily insert and remove artwork. Constructed of sturdy paperboard and acetate to protect those valuable one-of-a-kind originals and hold artwork securely in place.

» For ages 3 and up
» Size: 44" x 22½" when open
» Art work is easily inserted from the backside of the portfolio
Art Display PlayPanel:
This Children's Factory Art Display Panel is 31'' x 31''. The transparent vinyl panel has two rows of transparent pockets to display books, childrens art work, anything you want to display remind children about.

Children's Factory PlayPanels and other Children's Factory educational toys are shipped directly from the manufacturer and may take three weeks before shipping. But, considering all the creative enjoyment they will bring, they're well worth the wait.