For the Do It Yourself Woodworker

Rockler Buckboard Wagon Project Plans & Hardware Kit

Hardware Kit & Plan

Recreate a piece of the past with this Wagon Kit that exhibits authentic design touches. Quality components and attention to detail make this project rewarding to build. All kits come complete with easy-to-follow instructions and full-size patterns. (Lumber not included)


Winfield Woodworking Plans & Patterns


Rustic Buckboard Wagon

Old Grain Mill

Truck Playground Structure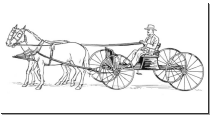 What is a Buckboard?
The buckboard is a four-wheeled wagon of simple construction meant to be drawn by a horse or other large animal. It is steered by its front wheels, which are connected to each other by a single axle. The front and rear axle are connected by a platform of one or more boards to which the front axle is connected on a pivoting joint at its midpoint.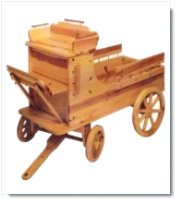 The open back design makes cleaning up toys fun and easy for kids. Imaginations can run wild using the wagon as a stage coach full of gold, or as a pioneer's wagon -- try placing the wagon behind a favorite rocking horse which can "pull" it.

The wagon is 50" long x 36" tall x 24" wide. The simple to follow plans include full size patterns for curved pieces, a list of materials you need, plus photos and a set of instructions comprehensible for any skill level of woodworker.
Old-time buckboard styling and a weathered finish give this cart the instant appeal of a cherished antique! Real rolling wheels add a charming touch and allow easy access to move things around your garden.

» Buckboard styling in a lovely rustic finish
» Weight: 28.7 lbs
» Measures: 64" x 37½" x 26½" High
» Wood: Fir wood
» Some Assembly Required
» Finely crafted antique looking wooden wagon
» Perfect for carting gardening and landscaping materials around
» Enhances the elegance of any yard or garden
» Great gift idea to any gardening enthusiast
Sleigh Kit includes:

» 2 replica welded steel runners
» 2 steel runner braces
» 6 steel sideboard braces
» 2 steel miniature springs
» Assembly hardware
» Finished size: 36'' L x 16'' W x 29'' H
» Lumber not included