Woodworking & Crafts Reference Books
A collection of books in the woodworking, pyrography, patterns, coloring books, scroll saw, crafts, internet marketing and other reference books - in association with
Amazon.com
...
---
We are enrolled in the Amazon Services LLC Associates Program. By advertising and linking to Amazon.com we can earn advertising fees for sales generated.

Search Amazon.com:

---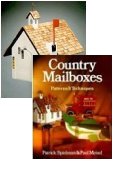 In this book, Patrick Spielman demonstrates how to modify a standard metal mailbox to resemble a variety of animals, vehicles and other objects.
Click
here
to view actual pictures some of the wonderful country mailbox designs you can make. This book will provide the patterns + helpful tips and techniques for making some wonderful crafty mailboxes. »
View More
---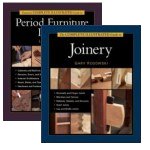 Taunton's Complete Illustrated Guides to Woodworking containing information about finishing, sharpening, using woodworking tools, box making, hardware, joinery, period furniture and more!
All of the techniques and processes you need to craft beautiful things from wood are compiled into these comprehensive volumes. »
View More
---