❈ Shop Plans: Building Birdhouses & Birdfeeders
For your favorite feathered friends, here is a nice collection of birdhouses and feeders for the DIY woodworker. As always, WOOD store built each of the pieces shown from the downloadable plans offered here to ensure your building success.
---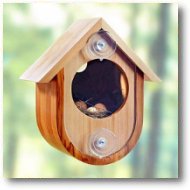 A great project to share with a young woodworker, this simple bird abode makes it possible to experience the wonder of nature from the comfort of your home.

Just stick it to a window and wait for feathered friends. Featured in the WOOD Issue 239, May 2016.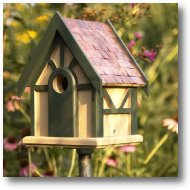 Using only a small amount of wood, copper foil, fasteners, waterproof glue, and paint, you can build this charming home that's sure to attract songbirds to your yard.

We sized the birdhouse and 1 3/8" opening for such small fliers as chickadees, nuthatches, and tufted titmice. Featured in the April/May 2006 issue of WOOD Magazine.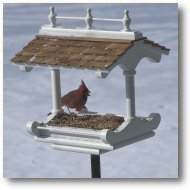 Looking for a gathering place for your fine-feathered friends? Then try this traditional tray feeder featuring painted columns and an attractive cedar-shingled roof.

The screen on the bottom helps keep the feed dry and the birds healthy. And, the feeder mounts easily to either a pipe or deck railing for your viewing pleasure. Featured in the November 1998 issue.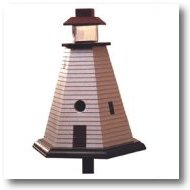 This charming nesting box comes to us from Larry Hanapole of Marblehead, Massachusetts, who ranks as one of the world's foremost lighthouse enthusiasts.

In designing this project, Larry combined the features of two originals he admired on the coasts of Maine and Nova Scotia. Base measures 10-5/8" dia. Download or Mail Order Plan.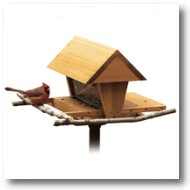 All feeders are not created equal. This bird feeder design appeals to a variety of birds and their feeding habits.

This design provides a healthy, durable structure that both people and birds could enjoy for a lifetime. Measures approximately 10" tall and 12-1/2" wide by 8" deep at the base.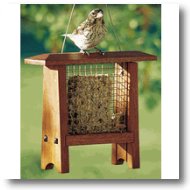 Birds flock to the high-energy nourishment provided by suet cakes. This good-looking feeder features a top that slides up the support cables, allowing you to add suet quickly and easily.

Whether you build one for yourself or a dozen for gifts, you'll surely gain a flock of feathered friends. Measures approximately 8" tall, 10" wide and 3" deep.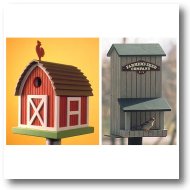 Birds love to congregate around our pint-sized country elevator in search of food.

And come nesting season, the barn-style birdhouse will prove equally popular with your feathered friends! Mail Order only.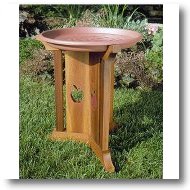 This tweet, easy-to-build project is a paradise for birds - and with its trio of colorful apple cutouts, it also brings a touch of Eden to your lawn or garden.

Stands 24" tall.



---
This free script provided by JavaScript Kit
---

As a participant in the WOOD Store Affiliate Program, we earn advertising fees by advertising and linking to
WOODstore.net
.