Metal Arts & Crafts
Plasma Cutters ~ Sheet Metal Cutting

in association with Amazon.com

Eastwoods new 175amp max power Mig welder with spool gun; 30% duty cycle at 135 amp. Operates on standard 210-240VAC 22 amp circuits. These units have been tested against the leading U.S. brands and are of comparable quality in both weld penetration and wire feed motor functionality.

Plasma Cutter:
» Cuts through materials up to 3/8" thick
» 110v or 220v AC input with inverter technology
» 20' torch cable; 10' ground cable with clamp
» Rated 40-amp output
» Air flow rate: 3.0cfm at 20-65psi
» Backed by Eastwood's no-hassle 3-year warranty

View Larger Image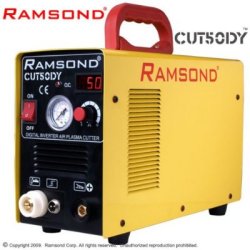 With the Ramsond CUT 50DY, regardless of your training, you can achieve smooth, clean and uniform cuts on a wide range of surfaces and material (e.g. stainless steel, carbon steel, alloy steel, copper, brass, aluminum plate and other conductive material) with minimal heat input and without distortion of metal.
This model has been designed so it is easy to use by the do-it-yourself user, while fully accommodating the demands of professional operators. » View Larger Image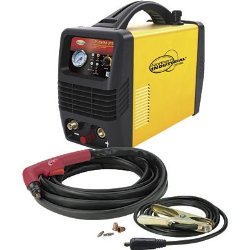 A lightweight unit that features powerful inverter technology for smooth cutting.
» Cuts electrically conductive material
» Cuts 3/8" mild steel
» Cuts 1/4" aluminum, stainless steel or galvanized metal
» Cuts 1/8" copper and brass
» Uses shop air - no special gases required
» Troubleshooting indicator lights
» Built-in air pressure gauge and pressure adjustment control

» View Larger Image

The Handler 140 from Hobart comes ready to weld with or without shielding glass, and it expertly handles a wide variety of solid, mild steel or stainless steel, flux cored and aluminum wires.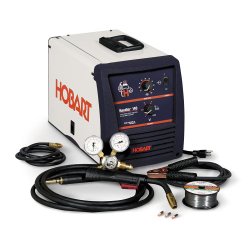 This handy MIG welder operates from 115-volt standard household current and features four output voltage settings with wire feed tracking and a purge setting, both of which provide quick and easy adjustment for different materials and thickness. The Handler 140 welds 24 gauge up to .25 inch in steel without burning through, and includes both a built-in contactor to make wire electrically "cold" when not welding and self-resetting thermal overload protection for optimum safety.
The proven built-in wire feeder with quick-release drive roll lever ensures reliable operation, and makes it easy to switch between .023 and .025 inches and .030 to .035 inches. This device also offers easy access to polarity changeover, which includes storage holes for spare tips.

» View Larger Image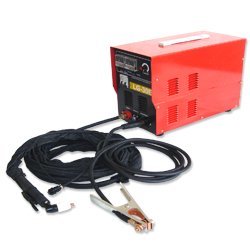 This 36 Amp Inverter Plasma Cutter is an outstanding value.

Cutting capacity up to 3/8", comes with all the tools needed to start your project.

Torch assembly, grounding clamp, air regulator, brush/hammer, and consumables (ceramic tips and electrodes) included. This unit requires an air supply of 3.5 CFM @ 65 PSI and 230 VAC input. Duty cycle rated at 60%