❈ The WoodRat™ Joinery Machine
To make great furniture, you need well fitting joints - lots of them! No more struggling with jigs and templates. The WoodRat™ makes any joint you need; it's easy to set up, easy to learn, fast, accurate and enjoyable.
---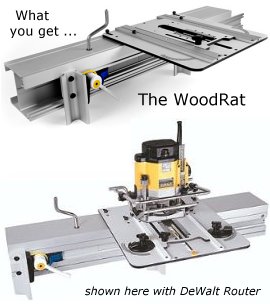 A unique innovation, featuring a cable-driven power-feed, infinitely variable dovetailing plates as well as the means to make tenons, mortises, laps, grooves, rebates and sliding dovetails.
The WoodRat™ comes with all necessary parts, a comprehensive manual and a no quibble guarantee.
Since its launch back in 1988, the WoodRat WR5 has won critical acclaim and devoted fans all around the World.
▸
Visit Woodrat.com
▸
Order at LeeValley.com
---
About The WoodRat™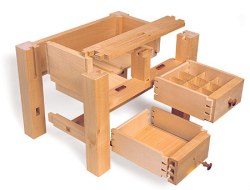 Designed as a wall-mounted workstation for efficient use of space, it is straightforward to install; step-by-step instructions provide clear direction for drilling the router plate to suit.
The 36" long jig body and guide rails are machined aluminum, while the cam locks and fences are glass-filled nylon. Capacity between the clamps is 29", and the router plate slides over the jig base to produce a 10" long crosscut. Lateral positioning of the workpiece is provided by an accurate cable-driven mechanism that also permits safe climb cutting for splinter-free routing across the grain.
---

Router Not Included


Creates Profiles & Grooves

The WoodRat™ converts any plunge router into a controlled three-axis milling machine. A versatile joinery tool, it excels at finger, lapped and housed joints; it machines standard and angled mortise and tenon joints, and cuts half-blind, through and sliding dovetails.


Machining a Haunched Tenon


Plunge Cutting a Mortise

It will also mill molding profiles and produce rail and stile joints. Rather than relying on fixed templates, the cutter is guided by following a layout you create for each specific joint.


Cutting Dovetails


Machining a Dado

In essence, you produce a drawing of the joint and use the WoodRat™ to duplicate it. This removes the constraint of having to design joinery around your tooling, allowing you to develop an effective process to solve virtually any joint-making problem.
---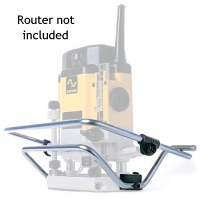 Dramatically improves the action of depthing your router. Depthing and fine adjustment is now a smooth, fingertip action thanks to the added leverage given by the bars. One hand brings the bars together, while the other is free to check the depth of cut.
Also, instead of having the router revving at 22,000 rpm with the bit dangerously exposed, you can keep the cutter safely concealed and drop it into the wood only when you're ready to cut. PlungeBars are easy to fit and require no permanent modifications to your router.
▸
Order at LeeValley.com
▸
Also see: Router Bits
---

---

We are a participant in the Amazon Services LLC Associates Program, an affiliate advertising program designed to provide a means for sites to earn advertising fees by advertising and linking to
Amazon.com
.