» Purchase the Thomas Jefferson's Writing Desk Plans
» View the original Jefferson Writing Desk at the Smithsonian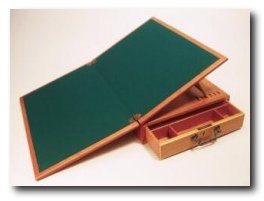 Build a piece of history: the little writing desk Thomas Jefferson designed. It's a replica of the actual desk on which Jefferson wrote the Declaration of Independence in July, 1776.

Designer and builder Lon Schleining had the great privilege to receive a grant from Taunton Press and a commission from the Smithsonian to build a replica of the desk for the Smithsonian's Castle Collection.
And now he is sharing his plans with you!