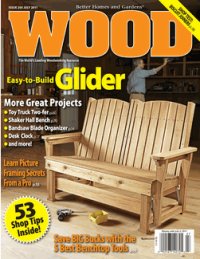 Shop Project: Bandsaw Blade Organizer
Storing blades of various widths and teeth presents a problem. This organizer is designed to solve that concern by storing eight bandsaw blades.
Weekend Project: Crisscross Desk Clock
A simple technique for the inlay makes this clock a quick build.
Skill Builder: Routing Large or Odd-Size Holes
Boring big or odd-size holes just got a whole lot easier using this simple method.
Skill Builder: Get the Most from Your Biscuit Joiner
For quick, reliable alignment and joining of project parts, nothing beats a biscuit joiner. At its most basic, you simply cut slots in mating pieces, add glue, insert a biscuit, and clamp. These 12 tips help your machine work harder.
Skill Builder: Picture Framing Secrets from a Pro
You've made the frame, now showcase your artwork with the right combination of glass, mats, and backers.
Skill Builder: How to Prevent Too-Deep Drilling
It's a sickening feeling: accidentally boring completely through a workpiece when you intended only a partial-depth hole. Here are three ways to avoid such a disaster.