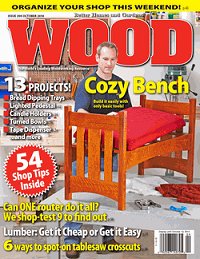 Get The Gunk Out of Your Tablesaw
Rid your tablesaw of the built-up dust and gunk choking its inner workings. It's ironic: Tablesaws create dust with every cut, but that same debris can restrict the saw's ability to tilt, elevate, and make more cuts. Here's how you can beat the dust gremlins.

Shop Test: Do-It-All Routers
Can a single router handle every router chore in your shop? We test nine models to find out.

Wood-Buying Options, from Cheap to Easy
Take your pick: On one extreme, lumber is locked away in log form waiting for you to slab it free with a mill and some muscle. On the other, you drop it surfaced, edge-glued, and shrink-wrapped into your cart at the local home center.

» Order the Issue: WOOD Oct. 2010
» Articles: Skill Builders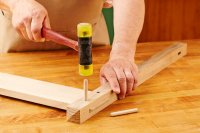 Joinery: Through-Mortise and Tenons
Call it a nod to woodworking history. Call it a skill stretcher. Cutting through-mortise-and-tenon joints and pegging them with dowels gives your project a distinction you don't get with time-saving screws and biscuits.

As its name implies, this joint features a tenon that goes through the mortised workpiece, with the end of the tenon protruding slightly.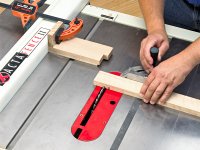 Shape Up Your Shop!
Organization strategies you can use today and keep it that way for a lifetime. Imagine a workshop where you can find every tool, jig, and board almost without looking. Whether you're machining lumber, assembling parts, sanding, or finishing, everything you need is situated within easy reach.
» Plans in WOOD Issue 200 Include: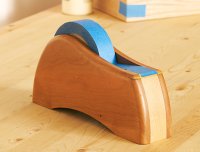 Clean lines and crisp cuts make this shop helper attractive and functional. Make quick work of dispensing painter's tape for masking or clamping tasks by converting a few of your shop scraps into this handy accessory.

» Order the Plans: Tape Dispenser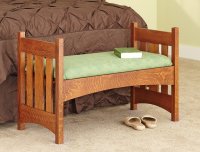 Authentic Arts & Crafts furniture once required advanced joinery skills. But you can assemble this bench using easy-to-make biscuit joints and quartersawn white oak. If you're ready for a bigger challenge, build it with real through-mortise-and-tenon joints. We'll show you how.

» Order the Plans: Arts & Crafts-Style Bench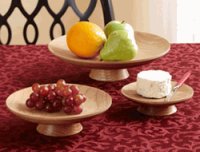 Beautiful and a great project for beginning turners. The broad, sweeping curves of these bowls allow plenty of room to see what you're doing as you turn, making this an ideal project for even beginners. Using a four-jaw chuck leaves no trace of how the work was held on the lathe.

» Order the Plans: 3-Piece Bowl Set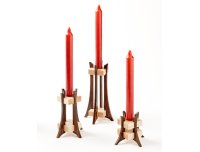 Elegant accents dress up any dining table. This quick-to-make gift will brighten the day of the recipient, but you get something out of it, too: a use for those small scraps too good to throw out.

» Order the Plans: Elegant and Easy Candleholders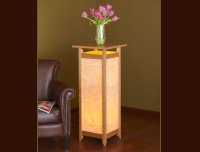 By day, it's a display table with clean, simple lines. It really shines after dark, though. Woodworkers talk about finishing wood to make the grain glow. But when you turn on the light inside this display table, the grain literally shines as the quilted maple veneer panels come to life.

» Order the Plans: Luminous Display Pedestal Table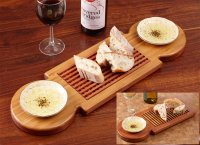 These serving trays, designed by reader Ralph Bagnall were inspired by poplar appetizer: freshly baked bread served with a dish of seasoned olive oil. Sing Ralph's techniques, we made two-dish and single-dish versions, each using Lyptus and bamboo. Other good woods would be tight-grained species such as maple, beech, cherry, and walnut.

» Order the Plans: Bread-Dipping Tray