Easily transfer images and patterns, color or black-and-white, to wood, leather, fabrics, papier maché, etc.
▸ More info / Buy now
Simply make a photocopy of your pattern or design (color or black-and-white), then place the copy face down on surface and use the Transfer Tool to "iron" it on. Next, remove the copy paper by "re-ironing" it while slowly peeling it off. It's that easy!


Transfer Tool in Action


Image Transfered with this Tool
---
This versatile tool includes all of the tips and points needed for woodburning, soldering, leather craft, stenciling, and styrofoam cutting.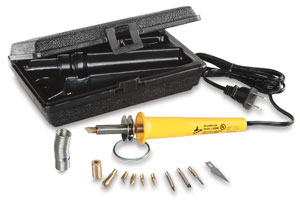 It requires 30 watts, and reaches 1050°F (566°C) maximum tip temperature.

▸ 4 Woodburning points
▸ 3 Soldering tips
▸ Stencil cutting tip
▸ Hot knife tip
▸ 5 oz of 50/50 Rosin Core solder
---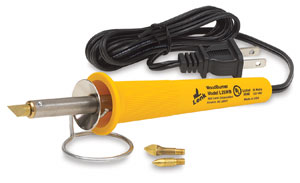 This 25 watt pen has a constant temperature of 850° - 900° F. Burns fast and dark. Especially effective on hard woods like Walnut or Cherry. This pen includes 3 tips ...

▸ All-purpose Chisel Tip
▸ Pointed Tip
▸ Shading Tip
---
---
This free script provided by JavaScript Kit
---
PLEASE NOTE:

For the DIY woodworker, the above links are for Blick Art products we think you will find interesting and helpful. Sale of these items provides a means for us to earn income by advertising for Blick Art Materials.
---